Devon Holiday Park near to Sidmouth in East Devon, the self catering accommodation at Stoneleigh Village provides holidays in the heart of East Devon, on the Jurassic Coast.

CLICK HERE TO SEE ALL OF OUR PROPERTIES all privately owned and offering good accommodation at a fair price.

Nearby village pubs such as The Fountain Head and The Mason Arms in Branscombe serve good food, wine and locally brewed beer. There are lots of interesting shops in Sidmouth, along with cafes restaurants, and the Radway cinema. Sidmouth also has a very good swimming pool near to the beach, as well as tennis courts which are available to visitors.

A steep path through scenic National Trust land leads to the secluded Weston Mouth beach. The famous Sidmouth Donkey Sanctuary is next door, with a nice cafe serving food and drinks. Many of our bungalows allow you to bring your family dog on holiday ( excellent dog walks around the Donkey Sanctuary ).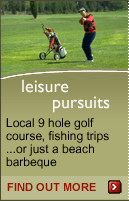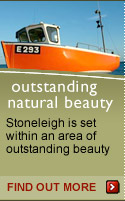 Sidmouth is a Regency town, flanked by red sandstone cliffs, as befits a seaside town on the Jurassic Coast. The beach is south facing, which at low tide gives way to sand. You can choose between 2 beaches, in front of the town promenade or a short walk beyond Jacobs Ladder to the West. If you climb the steps at Jacobs Ladder you can relax in the Connaught Gardens, and have a coffee and cake at the restaurant. During the main summer season, kayaks and paddle boards can be hired from the beach. 

There is a good choice of coffee shops and restaurants along the sea front.




The small town of Sidmouth is great for shopping and is very popular with locals for it's range of independent shops.

If you intend to go fishing at Sidmouth, Seaton or Beer check tides using the tide tables for fishing here:-